The A14 Great Ouse Challenge
Date: 12/10/2019
Location: A14 Brampton Compound
Website: link
Thank you for wanting to take part in what we hope will be a great event on 12 October;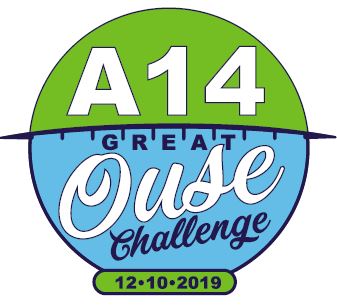 As the project moves closer to completion, we wanted to allow the local community to once again experience the new road before we open to traffic in December.
We've had two successful "Open Doors into Construction" events, as well as our "Wellie Walk", but the scheme was only partially finished then, with lots of uneven ground, deep excavations and large equipment, so could only be safely experienced while walking or in a vehicle.
A large part of the Huntingdon bypass is now almost finished and, before it opens, we wanted to give you the opportunity to cycle or run on the new road. We hope that you're as excited as we are!
Where?
We'll be using a section of the new bypass starting and finishing close to our Brampton compound near the A1. Everyone taking part will get to cross our 750m long viaduct over the River Great Ouse (hence the event title!).
Event types and distance
The day will be split into two sets of activities; cycling in the morning and running in the afternoon. Each event will be an out and back route, using one of the new three lane A14 carriageways.
The course distance is not a standard one, but we decided a unique race should have unique distances, so (in keeping with the road name) we have a 1.4km children's fun run, with 7km and 14km distances for the other events.
Please note that this event is not a race but an opportunity to encourage the whole family to participate, so whilst there is no minimum age to take part in the 7km or 14km events parents must take full responsibility for all participants under the age of 18.
Please do not push yourself or your child too far, just enjoy the experience, select the right distance for each member of the family and wake up the following day knowing you have been part of a unique event.
Please make sure you select the right one from the drop-down list when you book.
Chip timing will be provided for the wheelchair events and the running events.
Numbers per event are limited, so please do register early to avoid disappointment.
A memento of the day will be presented to every participant.
Registration and Charity Fundraising
There is a £10 per person charge to take part, with 100% of this being split between the A14 Cambridge to Huntingdon scheme project charities.
These are the East Anglian Air Ambulance and EACH (East Anglian Children's Hospice).
You can also take this one-off opportunity to raise funds for your own club, village or favourite charity. This will help ensure that this unique event helps to raise money for as many good causes as possible.
Car share and parking
As much as we'd like to have an unlimited number of participants, this isn't possible due to parking limitations. We therefore ask that you please car share where practical, indicating on the registration page how many cars / participants / spectators you anticipate will be coming with you.
Spectators are welcome and will be able watch from the start/finish line, which will be on the new A14, as well as following the participants as far as the River Great Ouse viaduct.
IMPORTANT - A few basic do's & don'ts
CYCLE
- DO - ALL participants in ALL cycle events MUST wear a suitable helmet. Without this you will not be allowed to ride. This includes any children in trailers.
- DO - Parents pulling a cycle trailer with child will be permitted, but will start at the back of the field.
- DO NOT - Headphones are NOT permitted to be worn for any of the events.
- DO NOT - No riding on horseback, motorbikes, scooters, electric vehicles, roller-skates or anything else that is not a bicycle, hand cycle, wheelchair or two feet is permitted.
RUN
- DO - Parents running with a buggy are permitted, but will start at the back of the field.
- DO NOT – bring dogs or other pets
- DO NOT - Headphones are NOT permitted to be worn for any of the events.
PLEASE ALSO NOTE
Registration fees are non-refundable.
Should you have the energy to do both the morning and afternoon events you will need to register twice.
Event entry on the day will NOT be possible.
Closer to the event we will send out more details about final arrangements and any tweaks to timing.
Thank you for supporting our event, our charities and hopefully your own.
We look forward to welcoming you and hope you have a great day.


Entries are non-refundable and non-transferable.