Sportlink Virtual Run Challenge - Entries Closed
Date: 31/10/2019
Location: Anywhere
Website: link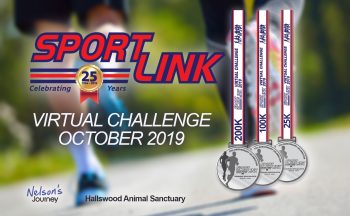 As part of our 25th Anniversary celebration at Sportlink we are running our very first Virtual Run Challenge. We have set three distances of 25k, 100k and 200k which are to be completed throughout October.
Monies from this challenge will be going to two local charities close to our hearts, Nelson's Journey and The Hallswood Animal Sanctuary. Walk it, jog it or of course run whilst doing it in your own time and of course wherever you like. Record your activities on Strava, Garmin Connect, Polar Flow or any other platform you use and at the end of the challenge send screenshots of your activities to chris@sportlink.co.uk.
Finishers will all receive a medal which will be available to collect in store at Sportlink from our Anniversary weekend of the 16th and 17th November and then throughout the rest of the month.
Entries are non-refundable and non-transferable.