Norwich to Norwich Virtual Challenge from Norfolk to New York - Virtual Challenge
Date: 31/08/2020
Location: Anywhere
Website: link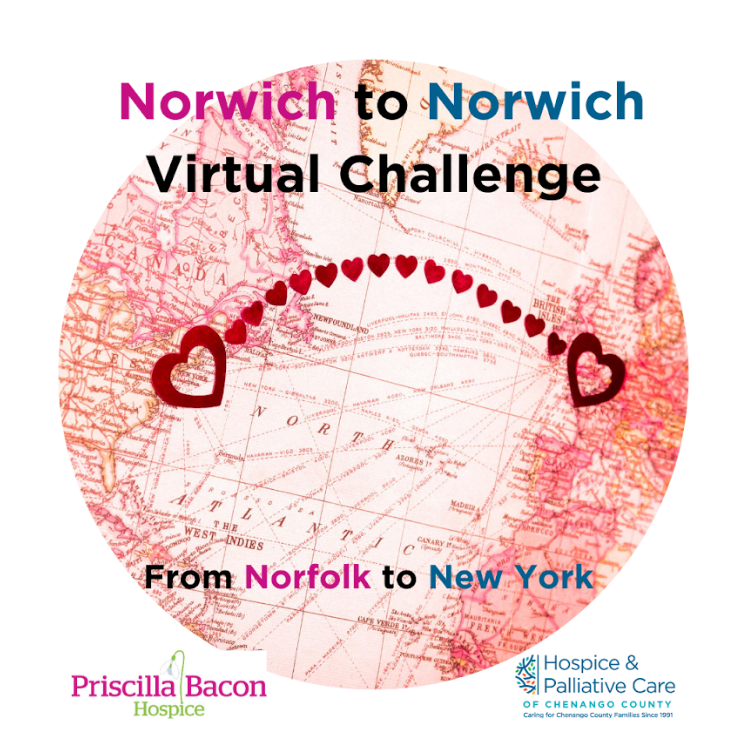 Our goal is for the cumulative total of all our competitors to cover the 5,585km/3,471 miles distance between Priscilla Bacon Lodge in Norwich Norfolk and Hospice Chenango in Norwich New York State.

Please record your total distance covered between 1st and 31st August 2020. Complete your distance either running, walking or cycling or a combination of activities at a pace of your choice. You can submit a single distance or activities from the entire month.

Hospice Chenango are running the same Transatlantic challenge, so it is a matter of national pride that our competitors cover the distance to Norwich, New York State first!

Your £10 registration fee includes a medal in the post and a challenge certificate via email. Special medals recognising those who have completed more than 50km and 100km will be distributed.

Please indicate, at the time of registration, if you are going to be aiming to complete 50km or 100km for the challenge.

The race is open to all ages.

Upload your distance onto the registration site before 1st September 2020 by posting the link to your run from your Garmin or Strava account. (The Strava app is free to download in the App Store for iPhones and Google Play for Android devices.)

All validated entries will appear on the Norwich to Norwich Virtual Challenge league table and age category winners for furthest distance (male and female) will receive a posted certificate.

Norwich to Norwich Virtual Challenge is brought to you by Priscilla Bacon Hospice and Norwich Road Runners.
All proceeds will go to the Pricilla Bacon Hospice appeal www.priscillabaconhospice.org.uk.

Challenge rules apply in accordance with current social distancing guidelines.
Participants should avoid busy parks/routes
Please be considerate to others by keeping at least 2m apart when passing
Junior entries are welcome- We advise they are supervised on their run as per social distancing rules
Entries are non-refundable and non-transferable.