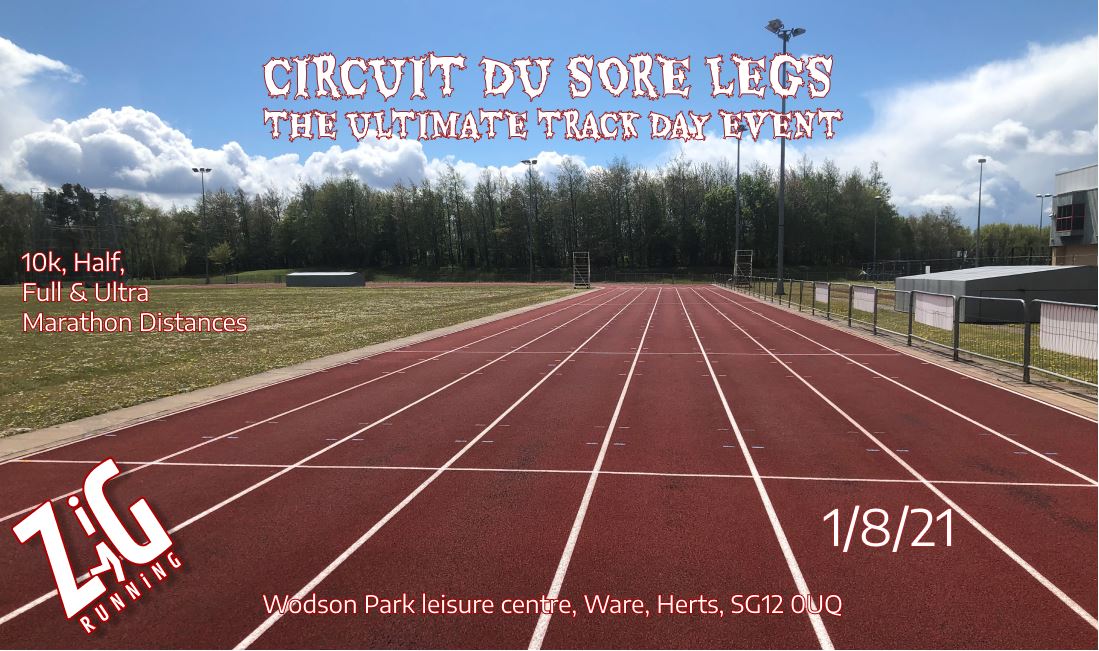 Circuit Du Sore Legs
Date: 01/08/2021
Location: Wodson Park Leisure Centre
Website: link
First race (Marathon & Ultra) starts at 9am
10k & Half will start from 10am
This is our Inaugural Track Day Running event.

A chance to get your PB, or even tick this off your bucket list of things that you would like to do.

Do you have it in you to complete your distance on a 400 Metre athletics track?
Here are the Numbers (Based on lane 1)
10k = 12.5 Laps
1/2 Marathon = 52.75 Laps
Full Marathon = 105.5 Laps
50 Ultra = 125 Laps
Bespoke medal
Chip timing and lap counting
Traffic free athletics track made for running
Free parking
Race photos
Tea & Coffee free for runners
Limited to 50 runners per distance
ARC Licence
See your supporters each lap
6 hour cut off time
Toilets on site close to race track
No chance of getting lost
Aid Stations all around the course
Registration:
You will need to be at the venue around 30-45minutes before your start time which will give you enough time to collect your race number, recieve the relevant race briefing and get ready to run. Please note the venue does not open until 8am, so do not arrive early.
Race Etiquette
All runners will be running at different speeds so overtaking will be on the right, if you are looking to walk some of the distance, or Jeff for example, we would ask that you take to the outer lanes, its important that everyone enjoys the event and as we would expect everyone to respect each other accordingly.
Venue
Wodson Park Sports and leisure centre, Wadesmill Road, Ware, Hertfordshire, SG12 0UQ
Entries are non-refundable and unfortunately cannot be deferred but transfers are available until midnight on 15/07/2021. Login to transfer your entry.